Futurestay has partnered with AirDNA, the world's leading provider of short-term rental data and analytics, to bring Smart Rates to your Futurestay Dashboard.
Smart Rates give you a competitive edge with personalized pricing suggestions that maximize revenue and occupancy. Smart Rates use data sourced directly from thousands of partners and over 10 million global properties.
Powered by Futurestay, this easy-to-use pricing tool will automatically update your prices everywhere using Smart Rate data.
How do I get AirDNA Smart Rates?
If you're new to Futurestay, complete your 4-step getting started checklist. This allows your property content and pricing to be powered in real-time, everywhere.
If you have any questions, your Connection Specialist is available to help via phone, chat, email, or a scheduled meeting.
I completed my Futurestay onboarding, how do I turn on my Smart Rates automation?
Open the Rateboard from your main navigation. Click the "Smart Rates" button at the top right-hand side of the page.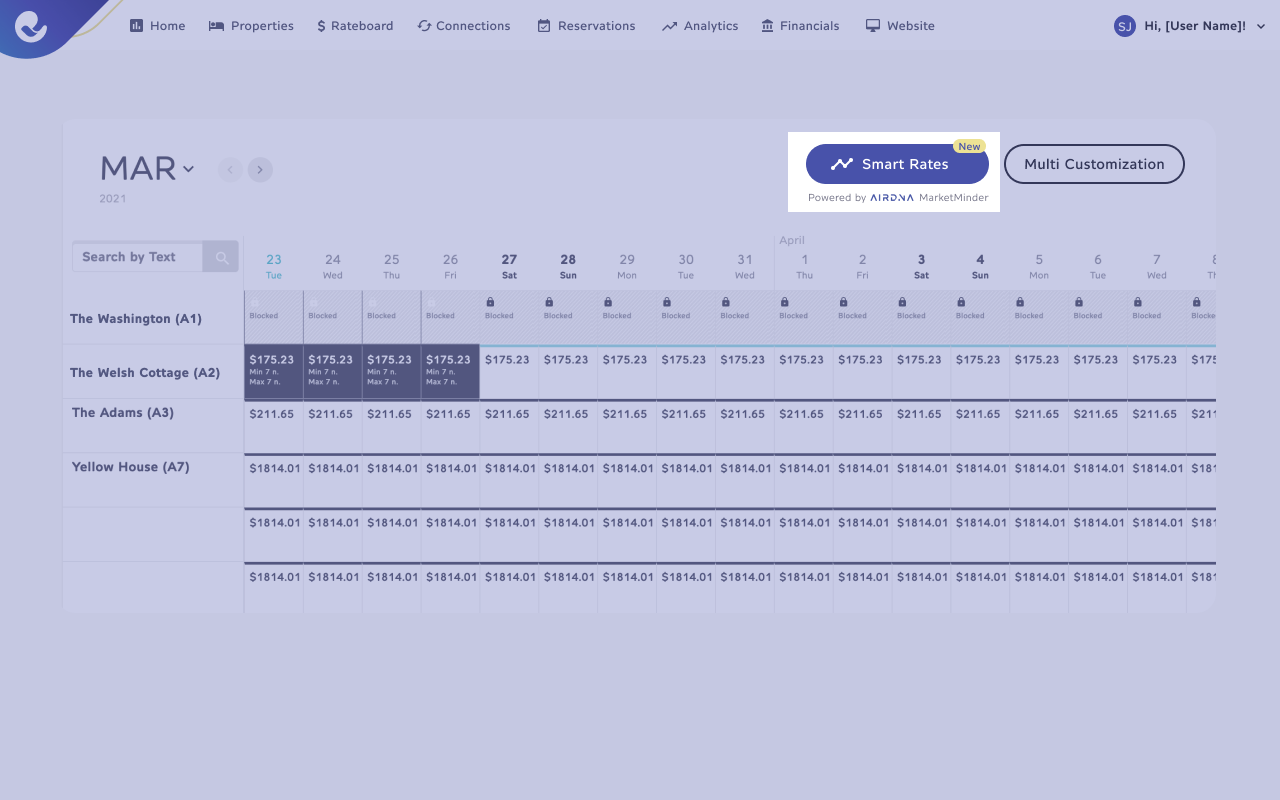 The settings for your Smart Rates will open: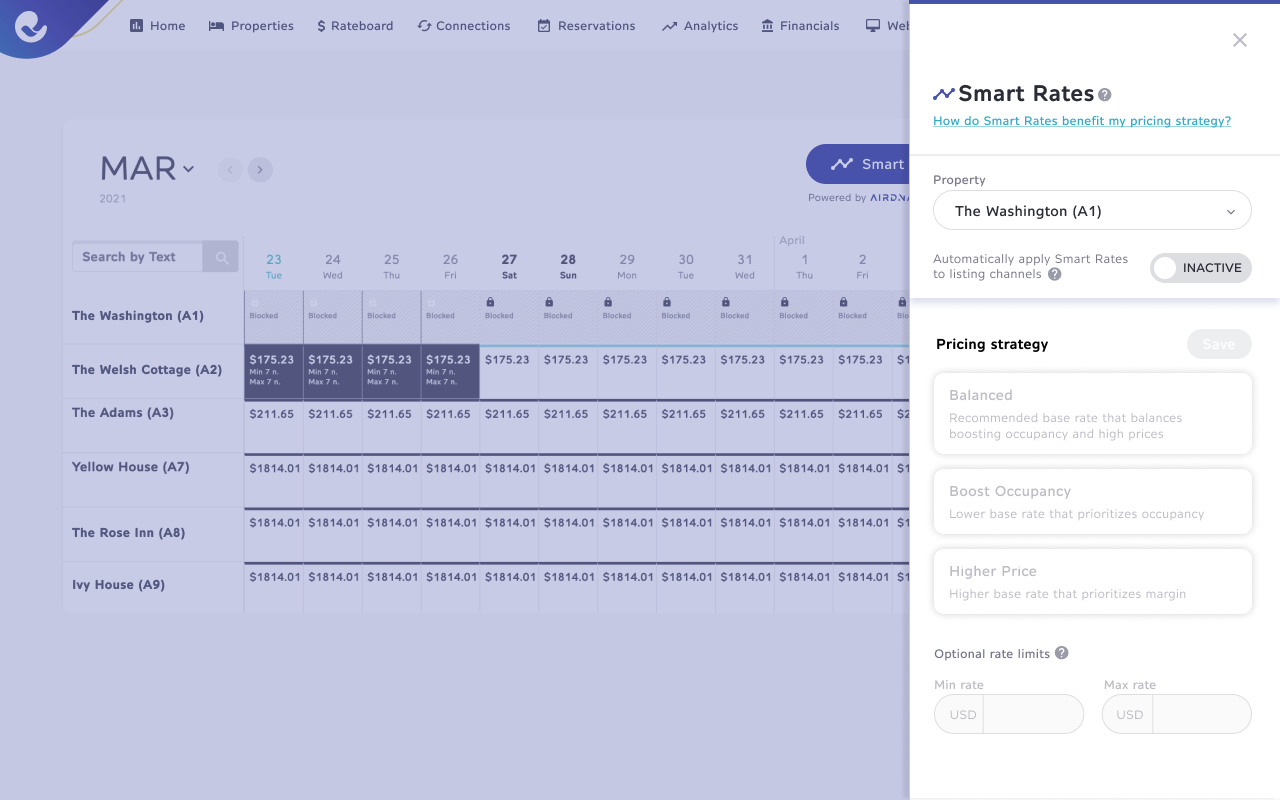 Select a property from the dropdown and click the switch to activate Smart Rates.
Smart Rates are set to the "Balanced" pricing strategy, by default. You can select from another pricing strategy, should you want to optimize for margin or occupancy.
Why do I need to turn on an Airbnb Smart Connection™ to get Smart Rates?
If you see this banner in your Smart Rates panel, it means that the property you've selected doesn't have an Airbnb Smart Connection™. You need to have an Airbnb Smart Connection™ in order to get the Smart Rate recommendations for your property.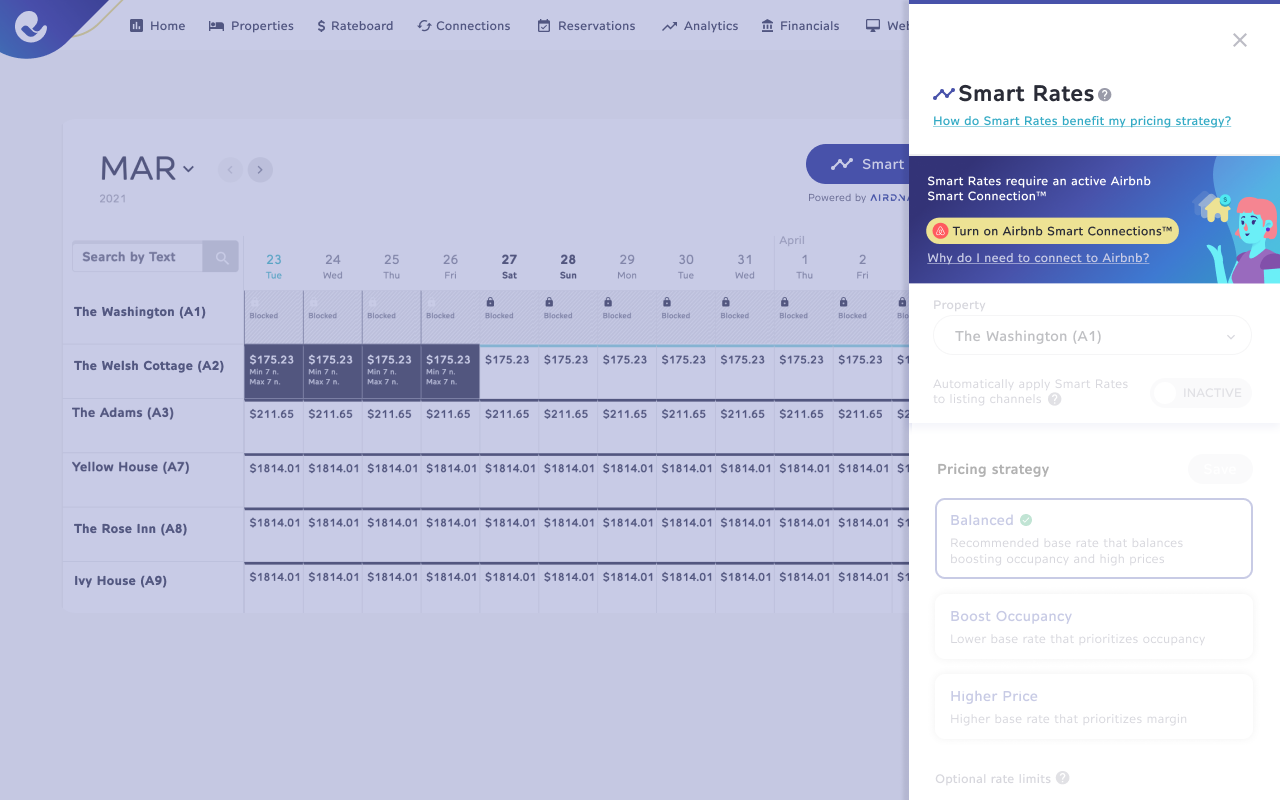 You can turn on your Airbnb Smart Connections™ by clicking the button in the banner or going directly to your Connections page in your main navigation.
Once your Airbnb Smart Connection™ is live for your property, the Smart Rate settings will unlock for you to customize and save.
Do I have any control over my Smart Rates?
Yes, you can use the rate limit settings at the bottom of your Smart Rates panel.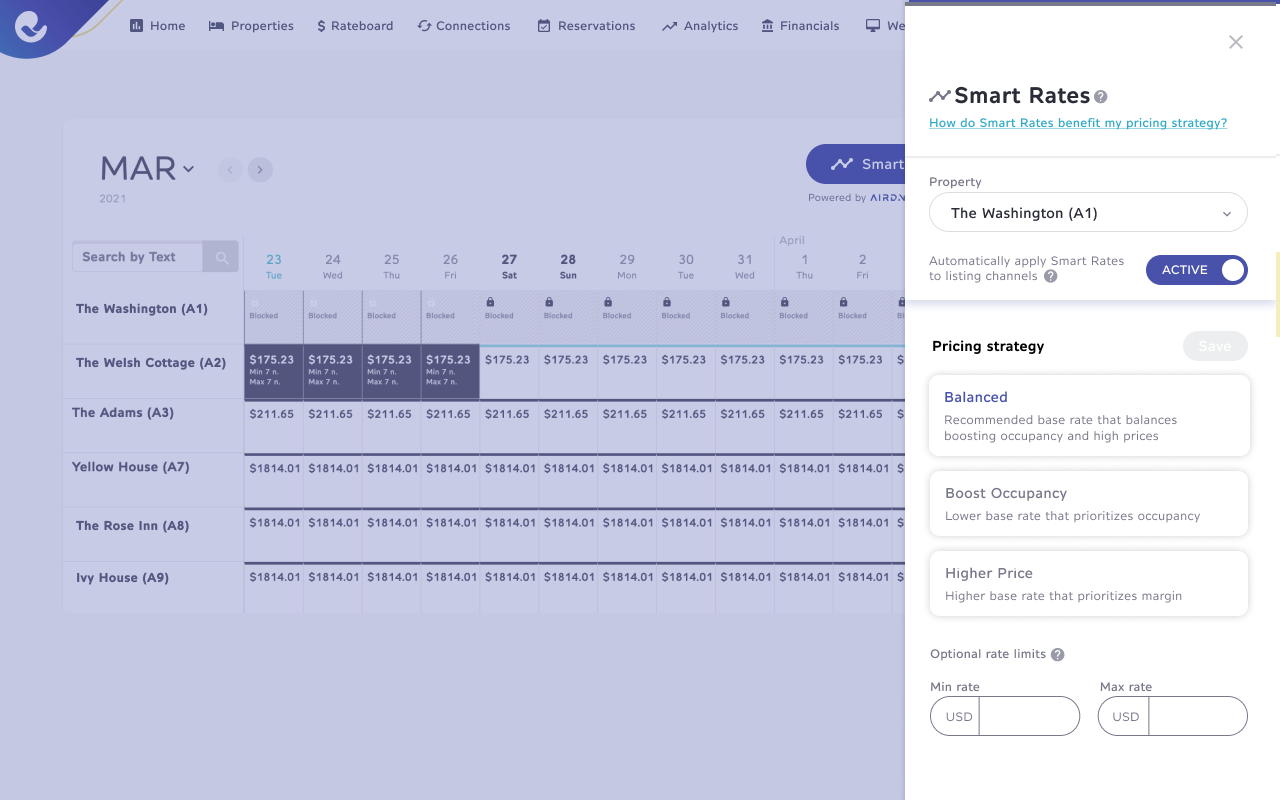 This setting tells Smart Rates not to set your prices lower or higher than the amount you want.
For example, if your minimum rate is $100 and Smart Rates for that day are $85, your price will be set to $100 and will not go any lower.
You can also select specific day(s) on your Rateboard and set a custom rate. Your custom rates will apply instead of the Smart Rates, should you have a particular price for that date that you'd like to use.
Why can't I get Smart Rates for my property?
If you see this message for a property you've selected, it means that there is not enough data for your location in order to provide Smart Rate recommendations.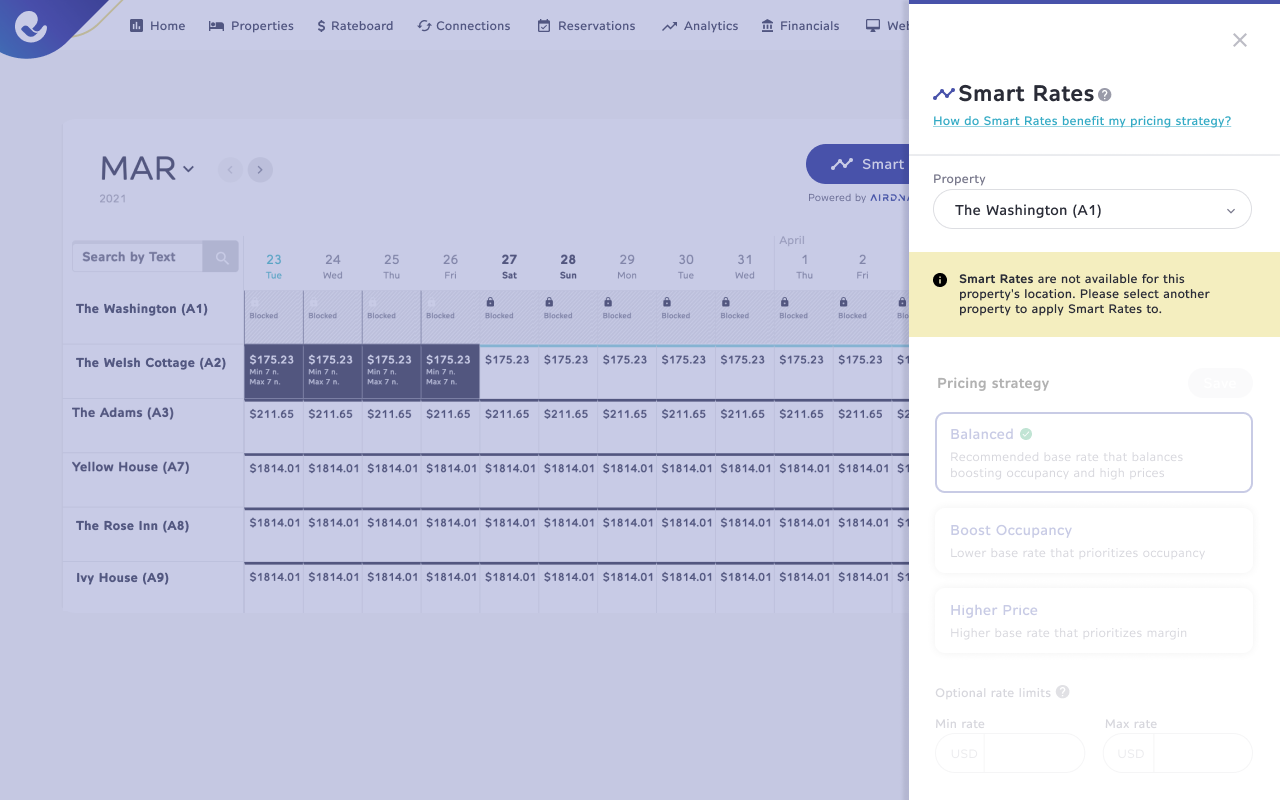 Please select a different property to activate Smart Rates for.
When there is enough data for your region for Smart Rates to make recommendations, you will be able to select the property and save the settings you wish.
How many months of Smart Rates will I get on my Rateboard?
Your Smart Rates will apply for 11 months after the time of activating them, for that particular property. If a guest books beyond this 11 month period, they will book at your base rate, not the Smart Rate.
How do I know my Smart Rates are on?
Your Smart Rates will show the "Active" status for properties that have live Smart Rates. You will also noticed that the property on your Rateboard with active Smart Rates will look different: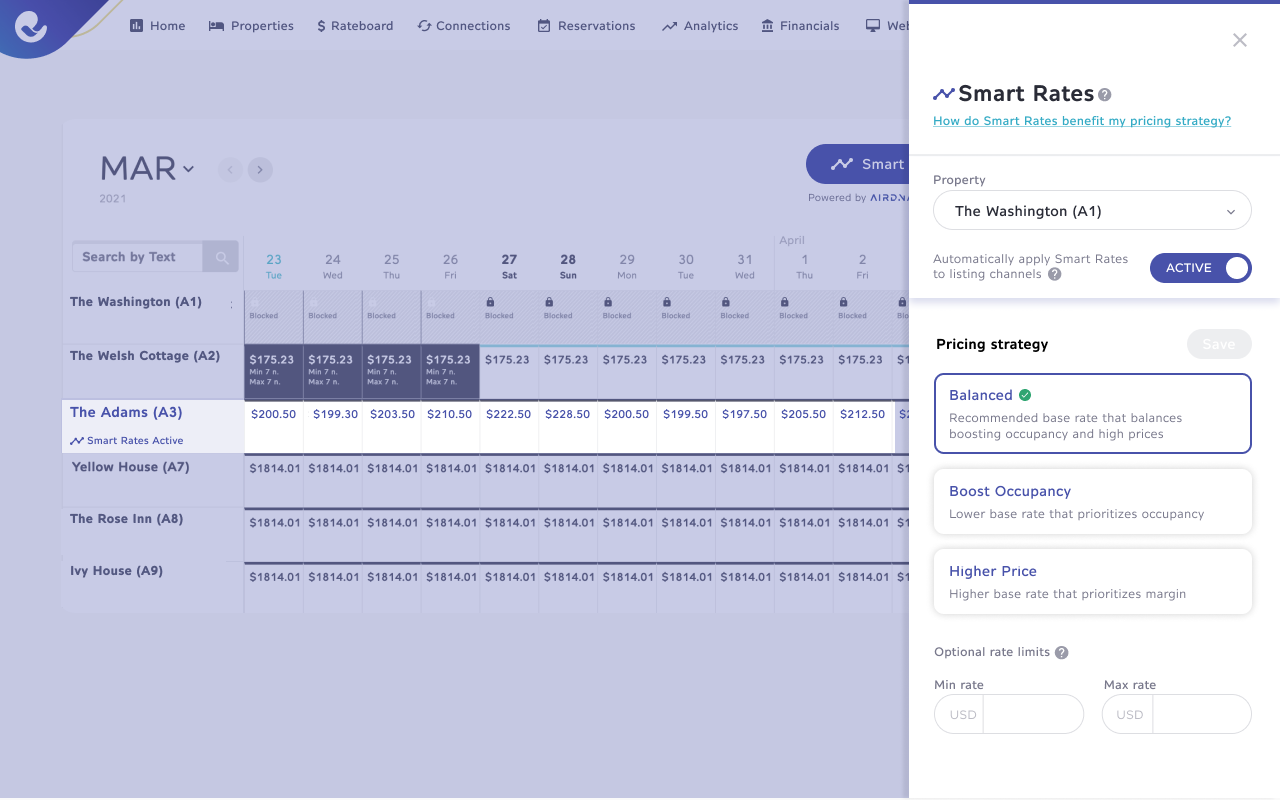 Your property will have a note in purple, under the property name, letting you know that Smart Rates are active for this property.
I want to go back to my previous pricing. How do I turn off Smart Rates?
Open the Smart Rates panel and select the property you would like to turn off Smart Rates for. Then, click the active button off.
You will get a confirmation modal asking you if you are sure you'd like to remove Smart Rates.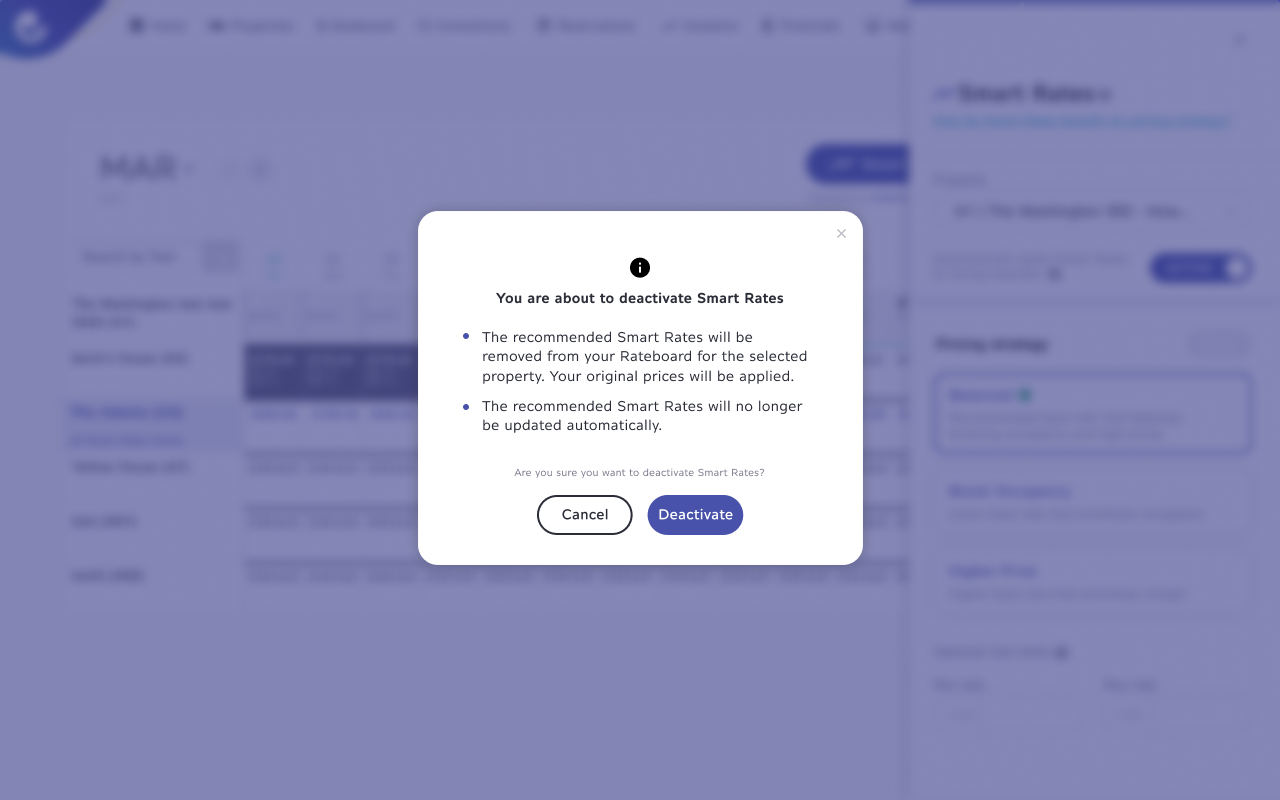 If you change your mind, you can use the switch in the Smart Rates panel to change it back to active.
Questions?
If you have a question not covered in this article, please reach out to your Connection Specialist for support.
‍
‍